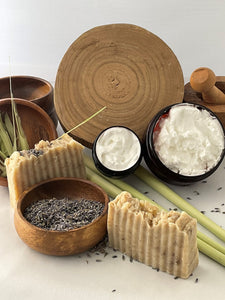 Lavender & Lemongrass Body Collection
Lavender oil can benefit the skin in numerous ways. It has the ability
 lessen acne
, help lighten skin, and reduce wrinkles.
Lemongrass  essential oil is known to cleanse and detoxify the skin and pores which enhances overall skin health 
 The antioxidant properties of the oil aid in neutralizing the free radicals and promoting the skin's suppleness.
Both oils paired together  awakens your senses while protecting your skin. 
---