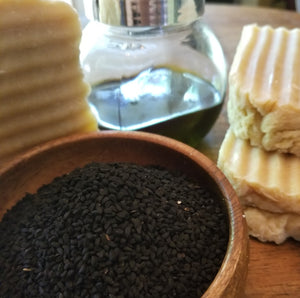 Blackseed Hemp Oil Soap Bar
We make our Blackseed, Hemp oil Soap Bar with Blackseed, Hemp oil, coconut oil, shea butter, and bergamot essential oil. 
It is said that Blackseed oil aids in reducing psoriasis plaques and helps to reduce acne symptoms, inflammation, and bacteria in healing wounds. Blackseed oil helps to improve skin moisture and hydration.
Black seed oil benefits: Health, skin, and side effects (medicalnewstoday.com)
---
We Also Recommend
---