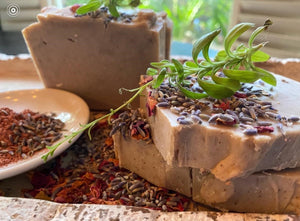 Lavender & Rose Collection
Made with Lavender essential oil, rose hip, crushed rose petals for exfoliation. Coconut oil, shea butter, jojoba oil, olive oil, coconut milk and Vitamin E.
Lavender plant is naturally anti-inflammatory and antiseptic, and it can soothe sunburns and reduce scarring.  These properties make lavender soap can be an effective way to reduce skin inflammation and treat skin conditions.  Rose as a natural astringent, helps tighten pores and help restore suppleness and produce a glowing complexion.
Comes with 2 4oz soap bars, 4oz body lotion, 4 oz body oil.
---