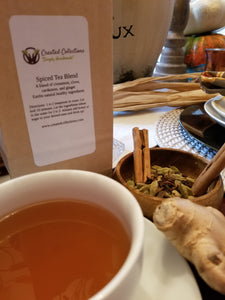 Spiced Tea Blend CC Home Collection
Spiced Tea Blend- A blend of cinnamon, clove, cardamom, and ginger. Earth's natural healthy ingredients. All of the natural ingredients are excellent for the body, and the taste is amazing! Enjoy the spice from the ginger and the sweet aromatic flavors.  Enjoy in any season.  CC Home Collection.

Directions: 1 to 2 teaspoons in water. Let it boil on high heat for 20 minutes. Let the ingredients simmer to infuse in the water for 30 minutes. Add honey or sugar to your desired taste and drink up! Excellent for a cold refreshing taste or drink it hot.
---